Learning, Reading Comprehension
worksheets to practice and improve reading comprehension, vocabulary and writing. texts and questions
1)Each fiction passage or poem is followed by four questions. Questions for grade 1 students are focused on recalling
information directly from the text. Answers can be given in the space provided or verbally to a parent / tutor.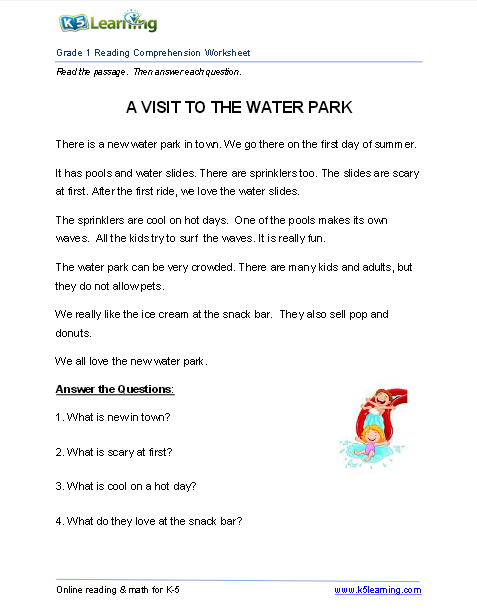 A Visit to the Water Park Fiction, 117 words
The New Bicycle Fiction, 67 words
A Puzzle a Day Fiction, 103 words
The Thunderstorm Fiction, 76 words
Making Cookies Fiction, 100 words
Summer Nights Fiction, 120 words
The Puppy and the Kitten Fiction, 81 words
The Boat Parade Fiction, 85 words
Peanuts and Popcorn Fiction, 101 words
Homework or Video Games Fiction, 88 words

http://www.k5learning.com/reading-comprehension-worksheets/first-grade-1